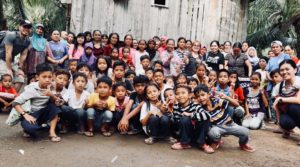 FilSabah.org with the stateless Filipino Families in Sandakan, Sabah, Malaysia
Immediately after the launch of BEAGIVER's #WeGiveAsOne initiative, a Filipino organization based in Singapore initiated a campaign to help the Filipino families residing in Sabah, Malaysia who are highly unlikely to receive aid from the Malaysian government due to their classification as  "stateless".
Background
According to a study of Kassim (2009), in the early 1970s, almost a hundred thousand Filipino Muslims sought refuge in Malaysia to escape the ongoing war and poverty in Southern Mindanao.  Since then, they—along with other Asian refugees such as the Indonesians, Vietnamese, and Cambodians built their homes, started new lives, and became part of the labor force of Malaysia.
However, during the late 90s, due to several factors, the Malaysian government started implementing strict policies on its refugees that made basic rights such as healthcare and education expensive and therefore less accessible to refugees. Soon, some refugees even became unqualified for work just because they were deemed as "illegal immigrants".  But one of the policies that greatly affected the lives of the refugees, was the official ruling banning refugee children with no birth certificates from enrolling in school. This was a huge problem since most refugee children—despite being born and raised in Malaysia did not have proper documents due to several reasons that are mostly linked to inaccessibility of basic resources. (Kassim, 2009) The lack of documents categorized these refugees as "undocumented" which is a ground for being stateless or belonging to no nation.
As decades passed by, these Filipino communities in Sabah who were once welcomed and accommodated in the country became perceived as "illegal immigrants". Their children were born as "stateless"– with no birth certificates, no nationality, no access to basic rights and a future filled with threats of being detained and deported back to a country they have never been in.  They are also subject to prejudices that make them more unable to pursue a better life.
FilSabah's work in Sandakan
For years the FilSabah.org organization has been fighting for statelessness and has been lobbying for the rights of the stateless people— especially the Filipino communities in Sabah, by organizing programs to promote their right to education and right to citizenship. Together with other NGOs, there has been small wins; some Filipino children have now been granted their birth certificates but thousands remain undocumented and the campaign therefore for statelessness continues.
However, the recent outbreak of the COVID-19 and the consequent implementation of the Movement Control Order (MCO) which is similar to the Philippine's Enhanced Community Quarantine (ECQ), has made the welfare of the undocumented Filipinos— who are highly unlikely to receive help from the Malaysian government, even more vulnerable.
In response to this, Mentrot Austria, the founder of Filsabah.org and his organization has been organizing efforts to bring help to the stateless Filipinos residing in Sandakan. Hoping to reach more help from our kababayans,  he initiated a campaign through BEAGIVER's platform to raise 100 food packs for the stateless Filipino families in Sandakan, Sabah, Malaysia. For only 500 pesos, you can already provide one food pack to a family of 4-5. This food pack shall contain the following items: 5kgs rice, 1 tray of eggs, 1 pack of noodles, 1 pack of coffee, 1 kg Oil and 1 pack of sugar.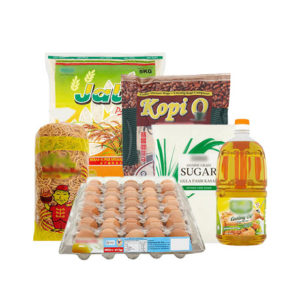 Food pack to be given to each stateless Filipino family in Sandakan
You can help our fellow Filipinos in Sandakan, Sabah, Malaysia  by visiting  Mentot's campaign to raise food packs on our website through this link: https://beagiver.com.ph/campaign/wegiveasone/ . Together with your support, we can keep on helping struggling Filipinos not just from our country but also to our brothers and sisters in Malaysia.
We also encourage you to read more about the plight of the stateless Filipino families in Sabah, Malaysia and support their advocacy by visiting the Facebook page of Filsabah.org at: https://www.facebook.com/filsabah.org/.
Reference:
Kassim, A. (2009). Filipino Refugees in Sabah: State Responses, Public Stereotypes and the Dilemma Over Their Future. Southeast Asian Studies, 47(1), 52-88.