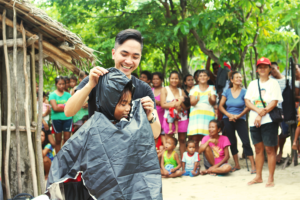 In Sitio Lipata, Camarines Sur, during a bag distribution that benefits over a hundred school children in this remote island.
Manila, Philippines – From going to school using a red-striped plastic bag during his elementary years, Filipino young social entrepreneur Josh Mahinay who founded BEAGIVER Ventures Inc., which distributes bags with raincoats to impoverished children in the Philippines through their unique and creative enterprise model gets the nod of the highly-esteemed Takeda Foundation and was selected as the Entrepreneur of the Takeda Young Entrepreneurship Award 2019 in University of Tokyo, Japan
Josh drew inspiration from his own personal journey in setting up a mission-driven enterprise that focuses on providing support to education for the poor school children. In an article published on Rappler dated August 09, 2013 entitled Leaving Los Angeles to pursue greener pastures, he narrated, "Going to school meant Going to school meant skipping a meal and walking 10 km a day. Walking had become an inevitable choice because the habal-habal (tricycle) fare can be saved for food. I have a very vivid memory of the times I had to ask for a free plastic bag from a nearby sari-sari (retail) store to put my things in. I had been a regular face in the store because the plastic bag ripped almost every day. Having a plastic bag for a school bag felt awkward for a little kid. In no time, my name had been associated with the plastic bag."
According to its website www.beagiver.com.ph, to date, BEAGIVER has already reached out to 66,241 school children worth PHP27M in 182 communities all over the Philippines. In doing so, it has also provided livelihood opportunities to their adopted weaving communities where they sourced their raw materials, partner sewing communities who make their bags and other impact projects that support education like scholarship, water, solar, school boats and cultural preservation projects. 
The awarding is set on March 15, 2020 in conjunction with the Takeda Symposium at the University of Tokyo, with 5 other young entrepreneurs to also be awarded from India, Mongolia, Uganda and Yemen. The award-giving body aims to assist the development of young entrepreneurs who will bring well-being to people as well as cultivate entrepreneurship. This year's selection was participated by 350 young entrepreneurs from 70 countries. 
To learn more about the inspiring things that Josh and his team are doing that brought pride to our country, and is worth supporting and emulating, check out their social media handles @beagiverph, @beagiverdreamsproject and @beagivercampaigns to see how you can be part of it.
Sources:
Link to Rappler Article: https://bit.ly/2rjV2FN
The story of Josh Mahinay (YouTube): https://bit.ly/32gRReB