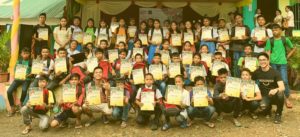 Education is a right, but in our country, it has become a privilege.
When we hold bag drives to far-flung areas, one story that the kids would fancy telling you is the story of how far they travel from home to school. There, you'll learn how kids as young as seven years old spend two long hours on rough uncemented roads just to get to school. Surely, this hour-long on foot travel would have been discouraging to many  but to our surprise, the kids don't see it this way. In fact, they said that they love going to school and that they look forward to sitting in class and listening to their teachers everyday. When we heard about it, our hearts were crushed. If the kids themselves are not giving up, then why should we?
This hope in every kid is what inspires us to keep on giving. Here in BEAGIVER, we try to do everything that we can to keep the light in the children's eyes. One of our inititiatives is a scholarship program that we provide to impoverished kids in the community. In partnership with Yellow Boat of Hope Foundation, we are currently providing scholarship assistance to 77 students aged 8-21 years old in Zamboanga. In addition to that, dormitory assistance is also provided to students who live kilometers away from home.
To make education accessible to all children may seem like a far-fetch idea for now, but as long as we keep on giving– in any way that we can, we will reach the time when our children do not have to pay so much to exercise their right to education.