Written by Coleen Raro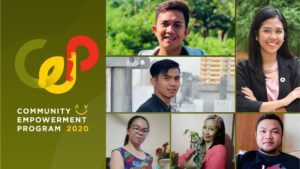 Leading the participating communities are Ruel Visca (Romblon), Romeo Jr. Ayyong (CAR), Beaulah Torres (Zambo. del Sur), Haydee Sijera (Palawan), Kezia Jungco (Negros Occidental) and Rowan Celestra (Sorsogon).
Spreading the culture of generosity and creating sustainable and meaningful impact has always been at the core of BEAGIVER. This year, we take our efforts up a notch through the Community Empowerment Program 2020, a three-month long program running from September to November 2020 that empowers leaders and in turn, empowers their communities as a whole. Community changemakers from six BEAGIVER communities nationwide namely CAR, Palawan-Rizal, Negros Occidental, Romblon, Sorsogon, and Zamboanga del Sur signed up to undergo sessions on Sustainable Leadership and Enterprise Development. 
Sustainable Leadership 
Empowered communities are led by empowered leaders. Thus, before our changemakers can move forward and look into the strengths of their community and how they can take part in creating change that matters, they have to take a step backward and look into their own strengths and how they can further realize their potential as community leaders. This is why first, we'll be having five sessions the whole month of September on Sustainable Leadership headed by Mr. Prudy Verzo, an experienced life coach, counselor, teacher, motivational speaker, organizational alignment trainer, and master trainer who has worked with different academic, corporate, and religious organizations. 
Enterprise Development 
The second program is on Enterprise Development which will be headed by Mr. Kein Chito, the General Manager of Barney Auto Lines Group of Companies. He will be teaching the chapter leaders and their team the basics of marketing, operations, finance, and strategy spanning four sessions, the first two weeks of October. We believe in the potential of every community to stand for itself. Thus, the Enterprise Development Program is designed to help our core leaders, together with the members of their chapters, to learn about the process of creating efficient and well thought-out opportunities that fit the conditions of their community under the principle of shared-economy.
Mentorship
These teams will not be left on their own as they will be mentored by six respected entrepreneurs that we sought with specialties in different areas and fields: Dr. Raul Manaligod, Atty. Jetjet Vergara, Mr. Kein Chito, Engr. Dalareich Polot, Ms. Annika Chua, and BEAGIVER'S very own CEO and Founder, Mr. Josh Mahinay.
Dr. Raul Manaligod is the Managing Director of the DBP Service Corporation, one of the country's largest outsourcing and staffing firms. His years of experience gave him expertise on Business Management, Leadership, Human Resource, Strategy, Training & Development, and Research.
Atty. Jetjet Vergara is an entrepreneur who owns Caramel, one of the leading bakeshops and restaurants in the Bicol region. Her expertise is on food manufacturing and retail. 
Mr. Kein Chito is a highly-experienced businessman working closely with different teams on the areas of operations, supply chain, business development, customer service, marketing, people training and development, and finance. Aside from consulting for various enterprises, Mr. Kein is also a multi-awarded book author.
Engr. Dalareich Polot, "Bohol's Chocolate Princess," is a multi-awarded young entrepreneur who is the Founder/CEO of social enterprise Ginto Fine Chocolates Corporation and the manager of Dalareich Food Products. She is dedicated to her advocacies on sustainable community development, social entrepreneurship, cacao farming, and women empowerment.
Ms. Annika Chua is the head of Business Development in Annaiah Marketing Corporation, a global houseware brand known for their "Lock and Lock" storage products. Her strengths cover Digital Marketing, Finance, and Operations.
Mr. Josh Mahinay's journey in establishing startups including BEAGIVER and his first-hand experience working with communities on impactful projects using entrepreneurial models will surely provide important inputs to the participants. 
This group of mentors will guide the participants on the conceptualization, development, and prototyping of their chosen enterprise idea. An initial Grant Funding of PHP 50, 000 will be given to the approved enterprise proposals. The chapters will be given the time to present their results at the end of November. After the Demo Day, an additional PHP 50, 000 will be given as Grant Funding for execution and growth of potential enterprises. There is also a potential for additional funding and capacity-building resources from our networks and partners who will be present on the Demo day. 
We believe that it is vital to mold changemakers into becoming better leaders first before we teach them how to start an enterprise venture based on the needs and strengths of their respective communities. We see empowering leaders and teaching their communities how to be sustainable as the highest form of generosity since we guide them and help them stand on their own. We at BEAGIVER are very excited about what the chapters are going to come up with. We have high hopes that through the Community Empowerment Program 2020, seeds of development and progress will be planted and nurtured in our localities.