By Michael Angelo S. Murillo, Reporter




Posted on June 19, 2015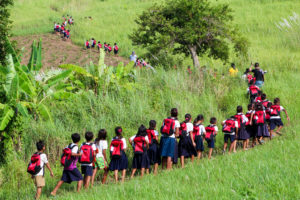 HAVING experienced poverty at such an early age, Josh Mahinay knew he had to do something if he was to improve his and his family's plight. And he found the answer in arming one's self with education, which he continues to champion now as a young social entrepreneur through the venture BAG943.
The BAG943 concept came both from a deep personal experience and from my belief that empowering poor children to pursue education is a huge step towards achieving what we hope to see our country become in the future, said Mr. Mahinay in an e-mail interview.
Life was tough for Mr. Mahinay, who grew up in Zamboanga Sibugay.
As a child, he had to walk some 10 kilometers to school from their remote village. He had a striped plastic bag for a schoolbag which he had to replace every day as it would rip each time from the many notebooks, pencils, and other things he had to bring.
A life-changing moment happened when he was in fourth grade. A distant relative gave him a hand-me-down schoolbag to use.
Mr. Mahinay recalled that it was not so much the bag but the act of someone actually going out of ones way to give him a bag that stuck in his mind. That moment ignited a firm belief that, with hard work and confidence, and with the help of others, he could make it in life.
Mr. Mahinay went on to complete his education with the help of relatives and friends. In 2007, he tried his luck in the United States, taking on a number of jobs and sending back money to his family.
But he only stayed there for five years, as his genuine desire to help others and his dream of living a life that matters won him over, he said.
In 2012 he returned to the Philippines and along with two other friends started BAG943, a realization of a dream of empowering disadvantaged schoolchildren, including providing poor kids the proper school materials, particularly bags.
CULTURE OF GENEROSITY
BAG stands for Be A Giver and 9-4-3 are birth number representations of his and the two friends he started the venture with, Mr. Mahinay said.
With Be A Giver, it means creating a culture of generosity amongst us….I wouldnt be where I am now if not for those people who decided to be a gift to me, who shared, cared, love and invested into my life.
The same culture I want to pass on.
943 as birth number representations are short of saying that before we were born, God was already up for something in our lives. My being poor was necessary so that I can be at this moment in my life, tell my story, and inspire my generation and the generations to come, he added.
BAG943, whichdesigns, manufactures, and sells its own brand of bags, is a product of the passion to give back, the 30-year-old Mr. Mahinay said.
It incorporates social responsibility by adhering to a Buy One. Give One.premise through a social arm called Bag of Dreams Project.
BAG943 is not a product of a long business preparation. Rather, it is an outcome of an overflowing passion to give back, to create an impact, to do something personal and to live a life that matters, Mr. Mahinay said.
I was surprised at how fast it rolled out. For someone who does not have a degree or background in business, my inexperience worked to my favor. There were not a lot of preparations that I know I need to do before setting out. No big capital, no feasibility study, just that burning desire to do something crazy and create an impact. I knew in my heart that it's going to work.
The ball got rolling for BAG943 when Mr. Mahinay visited Vietnam in 2012 to observe its manufacturing industry.
He shared that initially there was no intention on his part to start right away until he met a businesswoman who told him there is no reason to delay something promising.
He said he was reluctant at first because he did not have the cash needed to initiate a production. But as fate, as we might say, would have it, everything was taken care of by the businesswoman.
One month after that trip, I was already contacting my closest friends, and the backpacks I took home were selling one after another. I felt I was not really selling. I was just sharing my story and my mission. If I remember right, our initial release of 200 backpacks got sold out in a little over two weeks, Mr. Mahinay said.
He said starting the venture, like any business, had its challenges but he pointed out that the simplicity of their business concept of Buy One. Give One. — for every purchase made, they give another bag to a school kid in need –has made them relatable.
Everything we do, we do it small and simple, but we make sure it is life-changing for our buyers and our beneficiary kids, Mr. Mahinay said.
He said buying bags from BAG943, which sell for P3,280, provides a special experience for the buyer, who receives an e-mail after every purchase with a picture of the kid wearing his new bag and his biographical information, including his dreams when he grows up.
On the other hand, the bag that is given to the beneficiary kid has a tag that bears the name of the customer-giver. On it reads, This bag is given to thru the generosity of .
If you think about it, our goal is simple, to give as many schoolbags as possible because we feel that no poor kid should go to school without a schoolbag, Mr. Mahinay said.
Seeing the limitations of the government, Mr. Mahinay said businesses, big or small, should continue to share social responsibilities.
Businesses are supposed to exist to solve problems. It is ironic that many of our countrymen are left behind as we see companies breaking profit records year after year. It is very important to realize that growth should be inclusive, he said.
He was quick to note as well that he is seeing a sea-change in mindset as far as social responsibilities go.
It is very exciting to note that many Filipinos are finally getting it.
We've tapped into what we are naturally born to have, a compassionate heart. Companies are now becoming more intentional in their Corporate Social Responsibility Programs and young social entrepreneurs are born everyday.
Three years since opening shop, Mr. Mahinay said they are bent on making the business grow. Of course, our growth means our ability to do more for our cause, he pointed out.
He shared that they are planning to the take the venture to another level, bringing in new talent and investing in platforms to boost marketing and sales. Line expansion and possible partnerships abroad are also in the works.
Expect that we will continue to grow and inspire, Mr. Mahinay said. I believe BAG943 is just an introduction of other possibilities that lie ahead for us in terms of business opportunities. We will also continue to make the buying experience more meaningful in the marketplace by introducing high-quality products and staying true to our values and social commitments.
On a personal level, Mr. Mahinay said he would like to share his experiences and firsthand knowledge as a social entrepreneur, hoping to develop a mentorship program down the line.
I want BAG943 to be remembered as a symbol of hope. I want that when young people learn about our humble beginning, they'll say, I could be that person, too. I can do that, too. I also want BAG943 to be remembered for its culture, the culture of generosity, which goes beyond just giving backpacks to poor school children.
News Article: Click here!